PARALLAX Continues to Amaze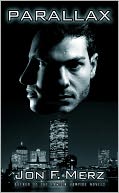 Yesterday, I got a nice surprise when Barnes & Noble spotlighted my novel PARALLAX as a "great choice" for summer reading. The write-up was great and as a result, I sold 576 copies of the book yesterday – leading me to the single-best day thus far on my ebook indie publishing journey. I'm thrilled to see PARALLAX continuing to get great press as I've always believed in its incredible potential. It's been several years since I first put it out as an ebook, tired of editors in NYC loving it but being unable to "sell" it to their corporate masters since it didn't fit neatly into a regular thriller category (given its psychic elements). And yet, for many people, PARALLAX is their favorite book by me. So, I'm ecstatic to see it moving as many copies as it did yesterday. And I hope the trend continues!
If you're one of the folks who has bought a copy – yesterday, today, or years ago – I'd like to say thank you for your support! 🙂 You can get PARALLAX for the Nook by clicking on the image above and for the Kindle by clicking here.