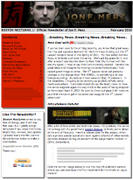 You might recall a few months back I asked a lot of you what you'd think about an idea I had to develop what was basically a Jon F. Merz magazine – something much more than just a newsletter, with free fiction, reviews, non-fiction, and more in it. Based on your responses, I've decided to reformat my official newsletter BOSTON NOCTURNE and turn it into a newsletter/magazine very much along the prototype I asked you all about.
Tomorrow, issue 1 – the February 2010 edition – launches.
BOSTON NOCTURNE is free. Free fiction. Free reviews. Free opinion. Free practical safety tips. And free much more. Imagine an innovative experience unlike any other author newsletter and you get BOSTON NOCTURNE. It will be published monthly and delivered straight to your email, hassle-free.
The only way to get it: send me an email. That's it. Quick, simple, easy, and best of all – free.
One more thing: if you're already subscribed to my original newsletter from way, waaaaay back, you don't need to resubscribe. I'll import your email address from that list and get you going right away. But if your address has changed or if you haven't gotten any recent updates, you'll definitely want to send a new email to receive BOSTON NOCTURNE.